La formación del médico rural, el modelo de competencias y la teoría crítica
Palabras clave:
Medicina familiar, salud rural, práctica familiar rural, formación médica
Resumen
El presente trabajo  evidencia las contradicciones teóricas en las competencias profesionales que necesita idealmente un médico que trabaja en zonas rurales, con poblaciones empobrecidas, formando parte de un sistema de salud con limitaciones tanto técnicas como de recursos humanos, tomando en cuenta la teoría crítica como sustento conceptual.
Se realizó una investigación cualitativa basada en teoría fundamentada; la primera fase de la investigación implicó la realización de entrevistas a un grupo focal (Focus Group) constituido por líderes de una comunidad rural y profesionales de distintas disciplinas del conocimiento que trabajan en zonas rurales y que están involucrados en la formación de médicos para conocer las perspectiva de la comunidad respecto a los profesionales de la salud.
Luego del análisis de las intervenciones, los autores sistematizaron las principales temáticas del discurso que agruparon en cuatro competencias generales que fueron: 1) experticia del médico en la atención de personas enfermas; 2) desarrollo de autonomía; 3) desarrollo de competencias emocionales y de comunicación; y 4) desarrollo de competencias culturales y políticas. La competencia más importante para los participantes fue la autonomía profesional.
Este trabajo investigativo evidencia los desafíos que enfrentan  las escuelas de medicina del Ecuador, tanto públicas como privadas, para aportar a los procesos históricos de las poblaciones rurales.
Descargas
La descarga de datos todavía no está disponible.
Citas
1 Carr W, Kemmis S. Teoría crítica de la enseñanza. La investigación-acción en la formación del profesorado. Barcelona: Martínez Roca; 1986.

2 Hidalgo Ottolenghi R. http://www.ute.edu.ec/. [Online]. [cited 2016 03 10. Available from: http://www.ute.edu.ec/equinoccio5/ART%20I.pdf.

3 Pontificia Universidad Católica del Ecuador. ftp://ftp.puce.edu.ec/. [Online]. [cited 2016 03 11. Available from: ftp://ftp.puce.edu.ec/Facultades/Medicina/CEAACES/PLAN%20CURRICULAR/C3.2%20PRACTICAS%20Y%20CORRESPONDENCIA%20CURRICULAR/PERFIL%20DE%20EGRESO/PERFIL%20EGRESADO.PDF.

4 Patiño Torres M. Análisis diacrónico de la educación médica como disciplina: Desde el informe Flexner. Medicina Interna, Educación Médica y Comunidad. 2007;: p. 98-107.

5 Escribano A. El Aprendizaje Basado en Problemas: Una propuesta Metodológica en Educación Superior: Narcea Ediciones ; 2008.

6 Tobón S. Formación basada en competencias: Pensamiento complejo, diseño curricular y didáctica. Primera ed. Bogotá: ECOE; 2004.

7 JR F, L S, J S. Can Meds 2015 Physician Competency Framework JR F, L S, J S, editors. Ottawa: Royal College of Physicians and Surgeons of Canada; 2015.

8 Beattie N. http://www.wacountry.health.wa.gov.au/. [Online].; 2011 [cited 2016 01 20. Available from: http://www.wacountry.health.wa.gov.au/fileadmin/sections/allied_health/WACHS_R_AH_RuralRemoteCompetenciesCT.pdf.

9 Baneitone P, Esquetini C, González J, Marty Maletá M, Suifi G, Wagenaar R. Reflexiones y perspectivas de la Educación Superior en América Latina Informe final - Proyecto Tuning - América Latina 2004-2007. Primera ed. Baneitone P, Esquetini C, González J, Marty Maletá M, Suifi G, Wagenaar R, editors. Bilbao: Publicaciones de la Universidad de Deusto; 2007.

10 Gruppen LD, Mangrulkar RS, Kolars JC. The promise of competency-based education in the health professions for improving global health. Human Resources for Health. 2012 Noviembre ; 10(43).

11. Sturmberg JP, Reid AL, Thacker JL, Chamberlain C. A community based, patient-centred, longitudinal medical curriculum. Rural and Remote Health. 2003 Septiembre; 3(210).

12. World Health Organization. www.who.org. [Online].; 2010 [cited 2016 04 20. Available from: http://dx.doi.org/10.1590/S0042-96862010000500018.

13. Habermas J. Ciencia y técnica como "ideología". Segunda ed.: Tecnos; 1986.

14. Apple M. Teoría crítica y educación Buenos Aires: Miño y Dávila; 1997.

15. McLaren P. Pedagogía crítica y cultura depredadora: Políticas de oposición en la era postmoderna Barcelona: Paidós; 1995.

16. Hernández Sampieri R, Fernández Collado C, Baptista Lucio MdP. Metodología de la investigación. Sexta ed. editores MHI, editor. México D.F.: McGrawHill Education; 2014.

17. Comisión Europea/EACEA/Eurydice. El desarrollo de las competencias clave en el contexto escolar en Europa: desafíos y oportunidades para la polìtica en la materia. Informe de Eurydice Europea OdpdlU, editor. Luxemburgo: Oficina de publicaciones de la Unión Europea; 2012.

18. RM G, SL H. Obstacles and solutions to maintenance of advanced procedural skills for rural and remote medical practitioners in Australia. Rural Remote Health. 2006 Octubre; 6(4).

19. Rominskia S, Donkorb PA, Lawsonc A, Dansod K, Sterne D. A Low-Cost Method for Performing a Curriculum Gap-Analysis in DevelopingCountries: Medical School Competencies in Ghana. Teaching and Learning in Medicine: An International Journal. 2012 Julio; 24(3).

20. Nebot C, Rosales C, Borrell R. Curso virtual para el desarrollo de competencias en atención primaria de salud. Rev Panam Salud Publica. 2009; 26(2).

21. Reta de Rosas AM, López MJ, Montbrun M, Ortiz A, Vargas AL. Competencias médicas y su evaluación al egreso de la carrera de medicina en la Universidad Nacional de Cuyo (Argentina). Educación médica. 2006 Junio; 9(2).

22. Sánchez Parga J, al e. Los caminos de la cura. In al. JSPe. Politica de salud y comunidad andina. Quito: CAAP; 1982. p. 311.

23. MSP ECUADOR: Subsecretaría Nacional de Gobernanza de la Salud Pública. Modelo de Atención Integral del Sistema Nacional de Salud. Primera ed. Pública DNdAyMdSNdSydlR, editor. Quito : Dirección Nacional de Articulación y Manejo del Sistema Nacional de Salud y de la Red Pública; 2012.

24. Hawes B G. http://www.gustavohawes.com/. [Online].; 2010 [cited 2016 Abril 10. Available from: http://www.gustavohawes.com/Educacion%20Superior/2010Perfil%20de%20egreso.pdf.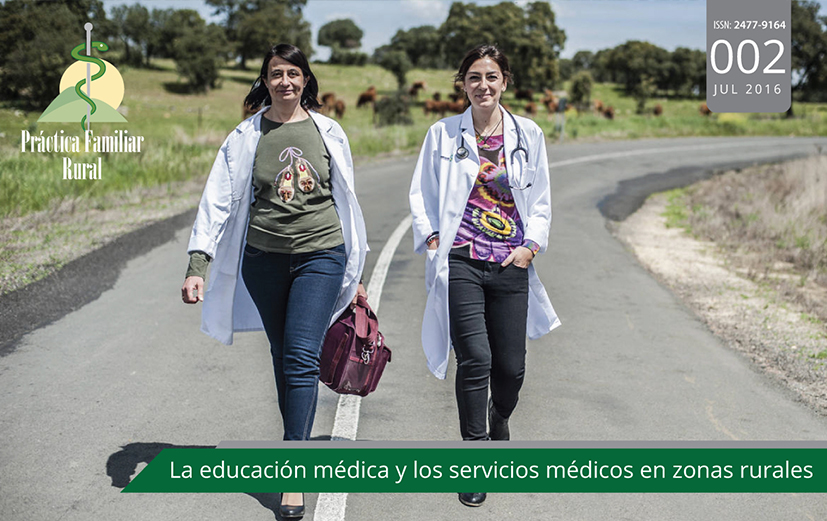 Cómo citar
1.
Herrera D, Troya C. La formación del médico rural, el modelo de competencias y la teoría crítica. PFR [Internet]. 25 de julio de 2016 [citado 9 de diciembre de 2023];1(2). Disponible en: https://practicafamiliarrural.org/index.php/pfr/article/view/73
Sección
Artículos Originales
Derechos de autor 2016 Práctica Familiar Rural
Esta obra está bajo licencia internacional
Creative Commons Reconocimiento 4.0
.