Características clínicas de 99 pacientes hospitalizados con neumonía por infección de Coronavirus 2019, desde el 15 de marzo hasta el 31 de mayo del 2020
Roberto Proaño

Médico Especialista en Medicina Interna
Palabras clave:
SARS-CoV-2, COVID-19, Factores de riesgo, características clínicas
Resumen
Introducción: A finales del 2019, un nuevo coronavirus fue identificado como causa de casos de Neumonía aislada en Wuhan, una ciudad en Hubei provincia de China, esta rápida expansión, alcanzó pronto los niveles de pandemia, afectando a nivel mundial. En febrero 2020 la Organización Mundial de la Salud, designó como COVID-19 al virus que provoca el SARS.CoV-2 (Síndrome respiratorio agudo severo)(1)⁠.
Diversos estudios observacionales se han realizado desde inicios de la pandemia, reportando las manifestaciones clínicas que incluyen fiebre, tos no productiva, disnea, mialgia, fatiga, leucopenia, y evidencia radiológica de Neumonía, posteriormente se reportó una tendencia a desarrollar enfermedad grave en los adultos mayores masculinos(2)⁠.
Objetivos: El objetivo de esta serie de casos, fue describir las características clínicas de los primeros 99 pacientes con Neumonía con infección por COVID-19, y comparar la evolución de los casos de acuerdo al manejo implementado. 
Materiales y Métodos: reporte y descripción de una serie de casos
Resultados: Describir las características clínicas de una población urbano rural ecuatoriana con Neumonía por COVID-19.
Conclusión: Se encontró una edad promedio de 58 años, el 51,5% (51 pacientes ) fueron mujeres, de estos el 13,1% (13 pacientes) fueron derivados a Terapia Intensiva o requirieron ventilación mecánica, un total de 55,6% (55) pacientes fueron dados de alta al domicilio, con una mortalidad hospitalaria en general de 17.2%.
Descargas
La descarga de datos todavía no está disponible.
Citas
1. Huang C, Wang Y, Li X, et al. Clinical features of patients infected with 2019 novel coronavirus in Wuhan, China. Lancet. 2020; 395:497–506. doi:10.1016/S0140-6736(20)30183-5
2. Wang D, Hu B, Hu C, et al. Clinical Characteristics of 138 Hospitalized Patients with 2019 Novel Coronavirus-Infected Pneumonia in Wuhan, China. JAMA - J Am Med Assoc. 2020;323(11):1061–1069. doi:10.1001/jama.2020.1585
3. WHO-2019-nCoV-clinical-2020.4-eng.
4. Ranieri VM, Rubenfeld GD, Thompson BT, et al. Acute respiratory distress syndrome: The Berlin definition. JAMA - J Am Med Assoc. 2012;307(23):2526–2533. doi:10.1001/jama.2012.566.
5. Li Q, Guan X, Wu P, et al. early transmission dynamics in Wuhan, China, of novel coronavirus-infected pneumonia. [published on January 29, 2020]. N Engl J Med. 2020. doi:10. 1056/NEJMoa2001316.
6. Sanche, Steven RESEARCH High Contagiousness and Rapid Spread of Severe Acute Respiratory Syndrome Coronavirus 2, Emerging Infectious Diseases, 2020.
7. Tang N, Bai H, Chen X, Gong J, Li D, Sun Z. Anticoagulant treatment is associated with decreased mortality in severe coronavirus disease 2019 patients with coagulopathy. J Thromb Haemost. 2020;18(5):1094–1099. doi:10.1111/jth.14817
8. Tay MZ, Poh CM, Rénia L, MacAry PA, Ng LFP. The trinity of COVID-19: immunity, inflammation and intervention. Nat Rev Immunol. 2020;20(6):363–374. doi:10.1038/s41577-020-0311-8
9. Debuc B, Smadja DM. Is COVID-19 a New Hematologic Disease? 2020. doi:10.1007/s12015-020-09987-4
10. Levi M, Thachil J, Iba T, Levy JH. Comment Coagulation abnormalities and thrombosis in patients with COVID-19. 2020. doi:10.1016/S2352-3026(20)30145-9
11. Guan WJ, Ni ZY, Hu Y, et al. Clinical characteristics of coronavirus disease, 2019 in China. N Engl J Med 2020; 382: 1708–20
12. Mehta P, McAuley DF, Brown M, Sanchez E, Tattersall RS, Manson JJ. COVID-19: consider cytokine storm syndromes and immunosuppression. Lancet. 2020;395(10229):1033–1034. doi:10.1016/S0140-6736(20)30628-0
13. McGonagle D, O'Donnell JS, Sharif K, Emery P, Bridgewood C. Immune mechanisms of pulmonary intravascular coagulopathy in COVID-19 pneumonia. Lancet Rheumatol. 2020;2(7):e437–e445. doi:10.1016/S2665-9913(20)30121-1
14. Ten VS, Pinsky DJ. Endothelial response to hypoxia: physiologic adaptation and pathologic dysfunction. Curr Opin Crit Care 2002; 8: 242–50.
15. Yan SF, Mackman N, Kisiel W, Stern DM, Pinsky DJ. Hypoxia/hypoxemia-induced activation of the procoagulant pathways and the pathogenesis of ischemia-associated thrombosis. Arterioscler Thromb Vasc Biol 1999; 19: 2029–35
16. Sandoval Y, Januzzi JL, Jaffe AS. Cardiac Troponin for the Diagnosis and Risk-Stratification of Myocardial Injury in COVID-19: JACC Review Topic of the Week. J Am Coll Cardiol. julio 2020. doi:10.1016/j.jacc.2020.06.068
17. Sandoval Y, Jaffe AS. Type 2 Myocardial Infarction: JACC Review Topic of the Week. J Am Coll Cardiol. 2019;73(14):1846–1860. doi:10.1016/J.JACC.2019.02.018
18. Moore JB, June CH. Cytokine release syndrome in severe COVID-19. Science 2020; 368: 473-474.
19. AlhazzaniW,MøllerMH, ArabiYM,etal. Surviving Sepsis Campaign: guidelines on the management of critically ill adults with coronavirus disease 2019 (COVID-19). Intensive Care Med. 2020;46(5):854-887. doi:10.1007/s00134-020- 06022-5
20. Rawson TM, Moore LSP, Zhu N, et al. Bacterial and fungal co-infection in individuals with coronavirus: a rapid review to support COVID-19 antimicrobial prescribing. Clin Infect Dis. Published online May 2, 2020. doi:10.1093/cid/ciaa530
21. Magagnoli J, Narendran S, Pereira F, et al. Outcomes of hydroxychloroquine usage in United States veterans hospitalized with COVID-19. MedRxiv. Preprint posted June 5, 2020. doi:10.1016/j.medj.2020.06.001.
22. Mahévas M, Tran VT, Roumier M, et al. Clinical efficacy of hydroxychloroquine in patients with covid-19 pneumonia who require oxygen: observational comparative study using routine care data. BMJ. 2020;369:m1844. doi:10.1136/bmj.m1844.
23. Rosenberg ES, Dufort EM, Udo T, et al. Association of treatment with hydroxychloroquine or azithromycin with in-hospital mortality in patients with COVID-19 in New York State. JAMA. 2020;323(24):2493-2502. doi:10.1001/jama.2020. 8630.
24. ThachilJ,TangN,GandoS,etal. ISTHinterim guidance on recognition and management of coagulopathy in COVID-19. J Thromb Haemost. 2020;18(5):1023-1026. doi:10.1111/jth.14810.
25. Bilaloglu S, Aphinyanaphongs Y, Jones S, Iturrate E, Hochman J, Berger JS. Thrombosis in Hospitalized Patients with COVID-19 in a New York City Health System. JAMA - J Am Med Asso. 2020. doi:10.1001/jama.2020.13372.
26. Dexamethasone in Hospitalized Patients with Covid-19 — Preliminary Report. N Engl J Med. julio 2020:NEJMoa2021436. doi:10.1056/NEJMoa2021436
27. Richardson S,HirschJS,NarasimhanM, etal; the Northwell COVID-19 Research Consortium. Presenting characteristics, comorbidities, and outcomes among 5700 patients hospitalized with COVID-19 in the New York City area. JAMA. 2020; 323(20):2052-2059. doi:10.1001/jama.2020.6775.
28. Garg S,Kim L,Whitaker M,etal. Hospitalization rates and characteristics of patients hospitalized with laboratory-confirmed coronavirusdisease 2019—COVID-NET, 14 States, March 1-30, 2020. MMWR Morb Mortal Wkly Rep. 2020;69(15):458- 464. doi:10.15585/mmwr.mm6915e3.
29. Karagiannidis C, Mostert C, Case characteristics, resources use, and outcomes of 10021patients with COVID-19 admitted to 920 observational study, the lancet Respiratory Mdedicine. 2020 vol.8(9)pp.853-862.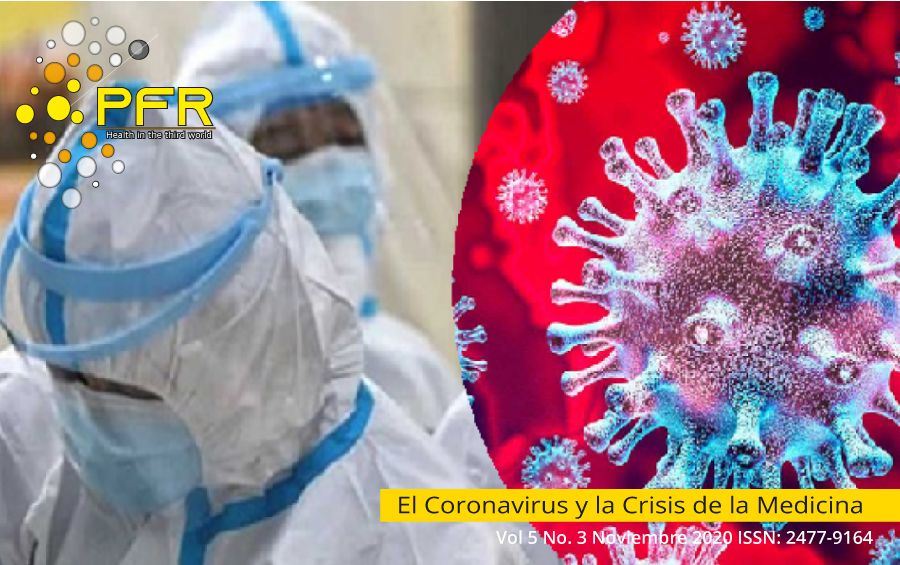 Sección
Artículos Originales